Liferea trick #9: skimming through the headlines
I'm not sure about how many users are aware of the feature, but I'm certain it is worth to know about as it saves a lot of clicking and pointing with the mouse. If you are a keyboard user it's worth knowing about the hotkey to
skim through headlines
.
Remember the Hot Key
As this hotkey is configurable check the preference dialog ff you are not sure about the setting. The default setting is <Ctrl>-Space...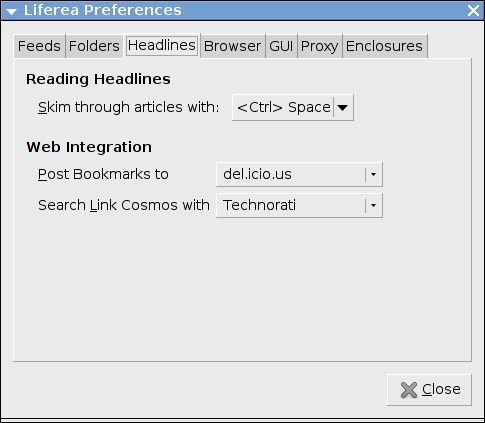 How it Works...
By using this hot key you can
navigate the article pane and the item list view at the same time
. As long as the article pane allow vertical scrolling it scrolls down. Once you reach bottom Liferea jumps to the next unread article. Using the headline skimming hotkey is like a "Next Unread And Scroll Down" menu option...
Recent Liferea Tricks